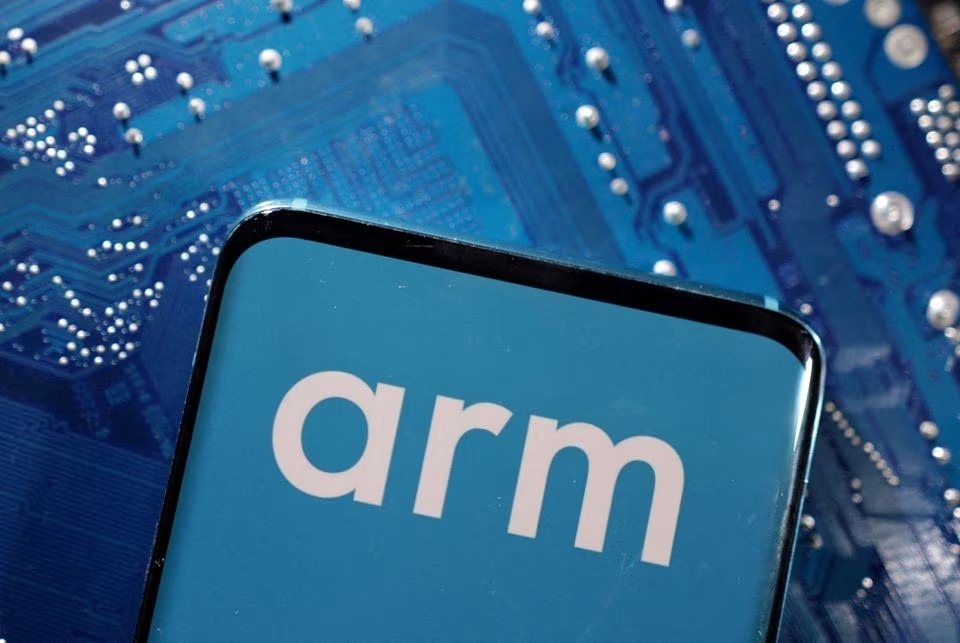 A scramble among Arm Holdings Ltd's clients, comprising the world's biggest technology companies, to snap up shares in its initial public offering (IPO) is testing the semiconductor designer's adherence to not picking sides in the chip industry.
Customers of Arm that have held talks about taking a piece of the IPO include Apple, Amazon.com, Intel, Nvidia, Alphabet, Microsoft, Samsung Electronics and TSMC, Reuters has reported.
Arm is hoping for a valuation of up to US$70 billion (S$95 billion) in the IPO, which will launch on the Nasdaq next month.
These companies' interest is fueled by a desire to expand their commercial relationship with Arm and make sure that their rivals do not gain an edge, according to people familiar with the discussions.
This is because Arm's customers view its semiconductor designs as an indispensable resource. They are used by more than 260 technology companies to make over 30 billion chips annually, powering 99 percent of the world's smartphones and everything from the tiniest of sensors to the most powerful supercomputers.
While an IPO investment would not come with a seat on Arm's board or the ability to dictate strategy, it could strengthen ties with each participating company and make it harder for a competitor to acquire Arm later, according to the sources.
"These guys want to be able to feed their technology needs back into Arm so that their needs get put into Arm's intellectual property," said Jack Gold, founder of technology consultancy J. Gold Associates.
Fight over 10 percent of IPO
Arm and its owner SoftBank Group have set aside 10 percent of the shares to be sold in the IPO for its clients, the sources said. They have pushed back against demands for higher allocations, arguing this would weigh on the liquidity of Arm's stock, given that shares totalling a stake of only 10 percent in Arm will be sold in the IPO, the sources added.
Arm and SoftBank declined to comment.
The details of the IPO discussions between Arm and its clients, which have not been previously reported, illustrate how the company's neutral status as "the Switzerland of chips" remains a flash point.
SoftBank is pursuing the IPO because its attempt to sell Arm to Nvidia for US$40 billion collapsed last year after other chip makers, who were clients of Arm, complained to antitrust regulators about it.
Nvidia is a major customer of Arm, licensing its technology to power a new processor for data centres that could win it market share against longtime rivals such as Intel and Advanced Micro Devices Inc.
Nvidia declined to comment.
Apple, Samsung
Another of Arm's major customers in talks to invest in the IPO is Apple. It was part of a consortium that founded Arm in 1990 and has been using its technology for chips that power its iPhones and Mac computers. Its close relationship with Arm has helped it design chips that curbed its reliance on Intel as a supplier.
Apple spokespeople did not respond to a request for comment.
In its relationship with Arm, Samsung has also been motivated by its desire to have more autonomy and fewer costs in its production of smartphones.
The Korean company and its executive chairman Jay Lee have cultivated ties with SoftBank CEO Masayoshi Son, according to the sources. Son was born in Japan but has Korean ancestors.
Samsung did not respond to a request for comment.
Intel has turned to Arm mostly to make custom networking chips. But as it expands its foundry business to compete in the contract manufacturing of chips against TSMC, it needs a closer relationship with Arm to ensure it can produce Arm-based chips for customers.
An Intel spokesperson declined to comment.
Many technology companies that seek to make their own chips using Arm's designs turn to TSMC for its low-cost manufacturing. This has motivated TSMC to advance the adoption of Arm's designs.
TSMC did not respond to a request for comment.
Amazon has used Arm to develop its own chip called Graviton to power the servers behind its cloud business and reduce its reliance on Intel and Advanced Micro Devices for chip supplies. It is seeking to expand the relationship as it develops more hardware, the sources said.
Amazon declined to comment.
Alphabet and Microsoft trail Amazon in developing self-sufficiency in chips but are following suit. Alphabet is keen to secure supplies for its Pixel line of Android phones, while Microsoft wants to ensure compatibility with its Windows platform.
Alphabet and Microsoft did not respond to requests for comment.
None of these companies investments in Arm's IPO are certain. SoftBank recently valued Arm at US$64 billion in a transaction with its Vision Fund, and it is possible that some companies will baulk at the price expectations.
"The valuation seems kind of high and people are awaiting what valuation comes in at," said Dylan Patel, chief analyst at semiconductor consulting firm SemiAnalysis.