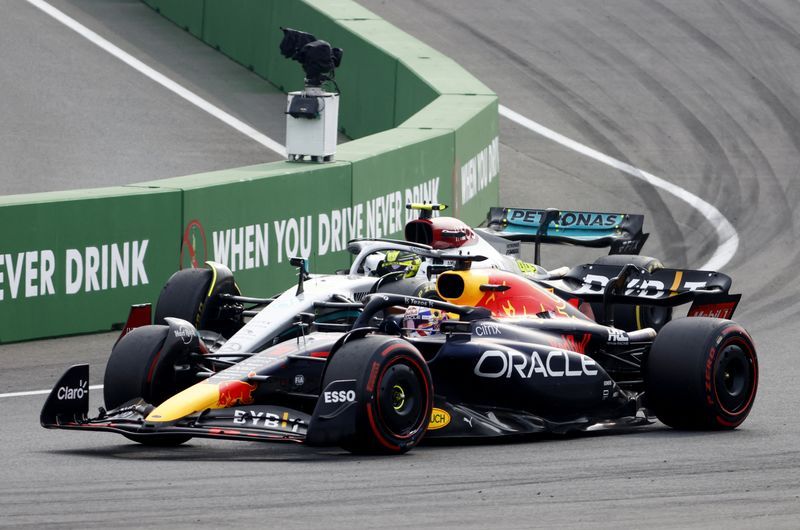 (Reuters) – Formula One statistics for Sunday's Dutch Grand Prix at Zandvoort, the 13th race of the 22-round season.
Lap distance: 4.259km. Total distance: 306.587km (72 laps)
2022 pole position: Max Verstappen (Netherlands) Red Bull one minute 10.342 seconds.
2022 race winner: Verstappen
Race lap record: Lewis Hamilton (Britain) Mercedes 1:11.097, 2021
Start time: 1300GMT (1500 local)
NETHERLANDS
The race returned to the calendar in 2021 for the first time since 1985.
Verstappen won in 2021 and 2022, both times from pole position, making him the only current driver on the grid to have won the Dutch Grand Prix.
Zandvoort opened in 1948 in the coastal sand dunes and is often described as "old school" — a quick and flowing circuit with high-speed changes of direction and much of the lap spent cornering.
Overtaking can be a challenge, putting an emphasis on qualifying.
It is roughly a half-hour train journey from Amsterdam.
The last two banked corners have an angle steeper than the Indianapolis Motor Speedway. The 235 metre pit lane is the shortest of the season, and the speed limit is lowered from the usual 80kph to 60kph.
The narrow and twisty track, with 14 corners, is the second shortest on the calendar and the race has only six laps less than Monaco. Only 55% of the lap is spent at full throttle.
WINS
Verstappen has won the last eight races and can equal the record of nine successive wins in a single season set by Sebastian Vettel, also with Red Bull, in 2013.
The Dutch driver has so far won 10 races in 2023. He has 45 wins from 175 starts and is fifth on the all-time list. Alain Prost, with 51, is fourth.
Red Bull have won every race this season (10 for Verstappen, two for Perez) and a total of 13 in a row dating back to Abu Dhabi last year.
No team has ever won every race in a championship season.
Hamilton has a record 103 career victories from 322 starts but has not won since Saudi Arabia in December 2021.
Aston Martin's Fernando Alonso has 32 wins, most recently in his home Spanish Grand Prix in 2013 with Ferrari, from a record 367 starts.
POLE POSITION
Hamilton's pole in Hungary last month was the record-extending 104th of his career and ended Verstappen's run of five in a row.
Red Bull have been on pole in nine of the season's 12 races, with Charles Leclerc taking the top slot in Azerbaijan and Belgium and Hamilton in Hungary. Verstappen has seven poles for 2023.
PODIUM
Six teams and eight drivers have made a podium appearance this season: Red Bull, Alpine, Aston Martin, McLaren, Mercedes and Ferrari. Verstappen has yet to finish outside the top two.
Verstappen holds the record for most podiums in a season — 18 in 2021.
Michael Schumacher is the only driver ever to have finished on the podium in every race of a season, in 2002.
POINTS
Verstappen leads Perez by 125 points.
FASTEST LAPS
Five different drivers have taken fastest laps this season – Alfa Romeo's Guanyu Zhou, Verstappen (6), Perez (2) and Mercedes' George Russell and Hamilton (2).
(Reporting by Alan Baldwin, editing by Pritha Sarkar)