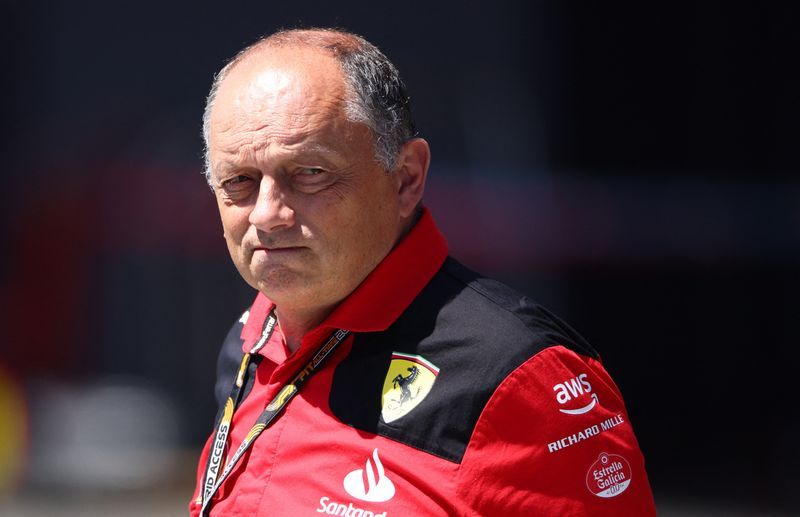 (Reuters) – Ferrari must take their chances and improve in all areas when the Formula One season resumes at Zandvoort this weekend, according to team boss Fred Vasseur.
Speaking to reporters ahead of a Dutch Grand Prix likely to bring Red Bull a 14th win in a row, 13 this season, the Frenchman said Ferrari lacked two or three tenths of performance.
The most successful team of all time are fourth in the championship after 12 of 22 races, five points behind Aston Martin and 56 adrift of second-placed Mercedes who have 247.
Red Bull (503) are in a league of their own and championship leader Max Verstappen, chasing a record-equalling ninth successive win, has scored more points (314) alone than any other team.
"There is a huge gap with Mercedes in terms of points but also when I look at the first part of the season we missed too many opportunities," said Vasseur, who took over at Maranello in January and has drivers Charles Leclerc and Carlos Sainz.
"We have to be much more opportunistic in the second part of the season.
"We need something a bit special if we want to catch up with Mercedes (in the championship) but the most important for me is to catch up with Mercedes in terms of pace."
Vasseur felt Ferrari, who have no major upgrades planned this weekend, were faster than the Mercedes of Lewis Hamilton and George Russell on average in qualifying but not race pace.
He emphasised, however, that there was no single area of weakness and did not believe something needed to be 'unlocked' on the car.
"I'm more convinced that we have to improve everywhere than just on one topic. We are speaking about tenths, not about seconds, and we show on some occasions that we are able to fight with Red Bull at least in quali," he said.
"It means the potential of the car is there and we have to understand why we are a bit less performance in the race and try to improve in these conditions. But I'm not sure its coming from the concept of the car."
Vasseur said Ferrari were recruiting from rival teams but it was ongoing and would take time — until 2025 even — for some of the new signings to be released from their existing contracts.
He said it was not a question of waiting for new arrivals before seeing any improvement and he trusted the team's current staff.
"We need to improve but we can do a better job with what we have today and we have to be focused on trying to get the best from what we have," he said.
"It's not that we will have three or five or 10 people that will join the team in the next 18 months and it will change completely the philosophy and the potential of the team. There is not a before and after."
(Reporting by Alan Baldwin, editing by Ken Ferris)