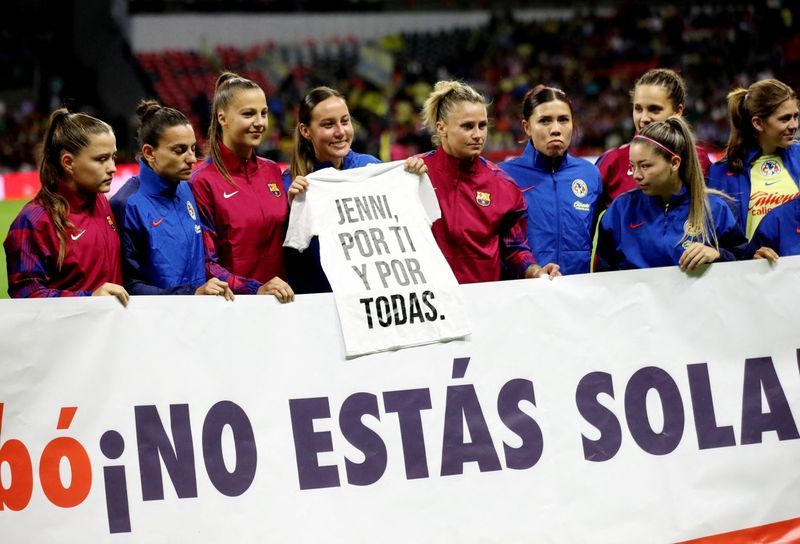 MADRID (Reuters) – Outrage over a kiss by the man at the top of Spanish football on the lips of a female footballer in front of millions watching the World Cup has snowballed into a "Me Too" moment building for years in a nation increasingly intolerant of abuse.
Spanish football federation (RFEF) president Luis Rubiales' kiss of Jenni Hermoso not only soured the World Cup triumph, but has also triggered a torrent of allegations from other women in sport of predatory behaviour by men.
"It is the tip of the iceberg publicly of what we used to see privately," Veronica Boquete, who captained Spain at their first World Cup in 2015, told Reuters.
The scandal has come after years of increasing disquiet in Spain over abuse of women, especially after the notorious 2016 "Wolf Pack" gang-rape of a teenager which prompted the socialist-led government to reform sexual consent laws.
In the case of football, the women's team's efforts to combat sexism and achieve parity with their male peers date back nearly a decade. That includes two dressing room rebellions that ended the international careers of several players.
Boquete led a mutiny seeking the resignation of coach Ignacio Quereda after a woeful performance at the 2015 World Cup, the only one his teams reached in nearly three decades.
Players interviewed in a 2021 Movistar+ documentary, "Breaking the Silence", described a culture of bullying and condescension under his tenure.
Quereda did not respond to several requests for comment sent to his telephone, though at the time he said the players' complaints "pained him … Because it isn't true."
The RFEF did not respond to a request for comment about the accusations against Quereda.
In the documentary, former goalkeeper Roser Serra said Quereda would pick on younger players in front of the team, calling them fat or saying they "needed a man". Footage shows him pinching players' cheeks or pulling them by the ear.
"He treated us like little girls. It made him feel like the powerful one within the pack," Mar Prieto, who played for Spain between 1985 and 2000, told the documentary makers.
Prieto accused Quereda of trying to control every aspect of their lives, checking bags when they went shopping and insisting they sleep with hotel rooms open on tour.
'NOT NORMAL'
No official complaint was filed because players were scared, Boquete said. "Many people also normalized behaviours or attitudes or comments that were obviously not normal."
The RFEF did not respond to a Reuters request for details of complaints made about mistreatment of players over the past ten years and how they had been addressed, as well as details of protocols for training administrative staff and the reporting of such complaints.
On its website, it has a detailed document from July 2021 identifying harassment and abuse risks to children and adolescents training in its clubs, with strict guidelines on how administrative staff can avoid creating hostile atmospheres.
But Reuters could find no guidance documents specific to gender harassment or sexism.
Quereda resigned in 2015 in a statement issued by the federation making no reference to the players' mutiny.
He was replaced by the current coach Jorge Vilda.
Danae Boronat, a sports presenter, told Reuters that some habits continued under Vilda, including keeping hotel room doors open so behaviour could be monitored.
Boronat, who interviewed Spain's leading female players for her book "Don't Call Them Girls, Call Them Footballers", said players accused Vilda of micromanaging, such as instructing senior players what to say in interviews.
Vilda also cut from the squad several of the ringleaders who sought Quereda's removal, including Boquete, at a time widely viewed as the peak of her career.
In September last year, 15 members of his squad also went on strike demanding changes in working conditions such as a physiotherapist and business class travel to ensure they were rested before games: standard conditions for men's national teams.
Most of the players involved were cut out of the squad even as some demands were met.
Vilda, who is facing possible sacking in coming days as part of the fallout from Rubiales' kiss, did not respond to a Reuters request for comment sent to the RFEF.
But after the mutiny last year, he told a November press conference that instead of false insinuations, any player should go public if they had not received "untarnished treatment of impeccable respect" from him.
SEXISM AT ALL LEVELS
Echoing the #MeToo movement's exposing of abuses by powerful men around the globe in recent years, Spanish female sports journalists have also alleged sexist behaviour.
Reporter Berta Collado was once left speechless when Atletico Madrid president Enrique Cerezo responded to a question on camera by referring to her breasts. Recalling that this week, she praised the women's team for "calling things as they are".
Cerezo in 2018 also told a female television reporter who had asked about the club´s cashflow that it was rude to talk about money, "especially with women."
When challenged by other journalists, he angrily rejected the question as "the most stupid thing ever" and "your problem". "I have nothing against women," he added.
Carlota Planas, founder of women's football agency Unik Sports Management which represents several of the World Cup winners, said sexism exists at all levels of the sport, from grassroots to national team.
"It cannot be that because you practice a sport you expose yourself to these things happening," Planas said.
Regional leaders of the RFEF have promised structural changes, but Boronat said she did not expect an immediate culture change given male dominance of the federation.
But those men will now be under more scrutiny, she added.
"What has happened is very good because it has brought to light the type of people who are there, their way of behaving and how they protect themselves," Boronat said. "We are closer, but from one day to the next this is very difficult to change."
(Reporting by Fernando Kallas and Charlie Devereux; additional reporting by Emma Pinedo and Aislinn Laing; editing by Aislinn Laing and Andrew Cawthorne)